MEDIUM- AN LONG-TERM LEASES


OF FULLY FURNISHED APARTMENTS IN THE BRNO CITY CENTRE
25 studios with a kitchen/kitchenette
Each apartment is fully furnished and equipped
2 levels of furnishing
(standard, executive)
Right in the Brno city centre
Křížová 952/10a
( Mendlovo náměstí square )
I am interested
Who are these apartments ideal for?
Foreign students of medicine at Masaryk University
Foreign experts working in the Spielberg Office Centre in Brno
Foreign experts working in AT&T Brno
The usual lease period is 6 – 24 months (for shorter leases please contact us for an individual quote)
Choose your level of comfort
Apartment lease
STANDARD type
Beginning at CZK 11.500/month
Apartment lease
EXECUTIVE type
Beginning at CZK 12.900/month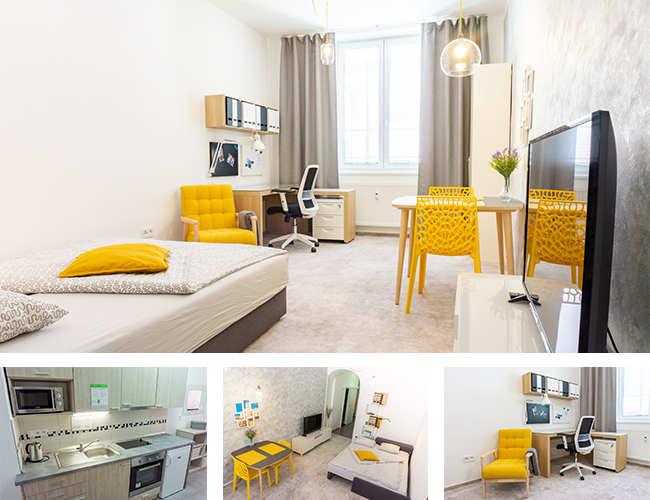 ---
Welcome to the "hotel" housing standard
A residential house of 1930, which underwent complex reconstruction of its internal and external parts in the recent years. The reconstruction approach emphasized preservation of the original features of the house, especially of the façade and other external elements, but also elements inside the apartments themselves. For example the characteristic arches in the living rooms were preserved in all the apartments. Careful reconstruction with high-standard interior materials succeeded in development of a project with high usage quality and standard right in the heart of the Old Brno quarter. Studio apartments with a kitchen or a kitchenette offer maximum comfort of living in the city centre. The house is situated close to the Mendlovo náměstí square transport node. However, thanks to its exceptional situation, the house itself is protected against all noise of the traffic or other street noises and provides absolute silence for study and work. In 2020 ongoing upgrade raises the individual apartment standards from STANDARD to EXECUTIVE. The EXECUTIVE level ambition is to approach high hotel standard in quality. This much demanded project of rental house includes 25 residential units with the disposition including one room (studio-type apartment) with a kitchen or a kitchenette. The purpose of the project was to provide complete furnishing and equipment to save you worries about apartment furnishing and unnecessary expenditures for apartment equipment and provide a peaceful and undisturbed study or work background. If you look for a studio apartment with a kitchen or kitchenette for lease in Brno then this is the right place for you!